NIMBLEWEAR as Official Apparel Supplier of USA National Speedskating Circuit
03 / 05 / 2013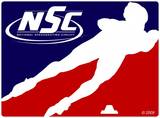 NIMBLEWEAR has proudly become the official apparel supplier of USA National Speedskating Circuit!
NSC (National Speedskating Circuit) is an organization formed by Miguel Jose, a four-time inline speed skating National Champion. Miguel (with help from Joey Mantia) developed NSC to help commercialize inline speed skating and transform it from an amateur activity into a recognized professional mainstream sport. Some NSC events will be tied in with major USARS (USA Roller Sports) invitational events, but NSC is strictly for professional inline speed skating formats and venues.
There is only one way to become a skater who represents the National Speedskating Circuit, wears an NSC skin suit and carries an NSC Pro Card. Interested skaters must qualify as one of the top 28 athletes from the NSC Trials at a specified time and location each season. These skaters must also be 15 years of age or older as of December 31st of the current calendar year.
Visit the National Speedskating Circuit site www.pronsc.com for athlete trial details and NSC organization information.